Hiking Gear List for Short and Longer Treks
If you've decided to take up hiking, your first step, before you even plan on a day to head out, will be to gather some important pieces of equipment. Hiking can definitely be a miserable experience if you aren't prepared. This hiking gear list features the essential items you simply can't do without when you're hiking in the wilderness for days at a time.
Hiking Gear Basics
Wearing the proper hiking shoes will keep you safe and comfortable, and should depend on the type and length of the trek. If you're planning just an hour long jaunt, some people feel more comfortable in simple walking shoes, while others prefer wearing a set of trainers which offer better arch support.
If riverbed walking is your thing, many hikers recommend wearing open toed river shoes, which will offer improved traction on wet rocks.
But if your goal is a weekend long hike in the backcountry, you're going to need a solid pair of hiking boots that feature higher ankle support in order to protect yourself against rolling an ankle. This type of boot can be somewhat clunky, but they're appropriate for this type of journey.
Bringing water on your trip is probably a no brainer and most hikers recommend bringing along about three liters for each day you plan on hiking. For an overnight hike, you'll also want to bring a water purifier or iodine pills, which are essential if you plan of filling up from an available stream or river.
You'll also need a water bottle or two to carry it. Try to avoid those single use petroleum based bottles and opt for a refillable metal water bottle which will insulate your water.
Obviously, you won't get very far without a hiking backpack. The type of pack you chose should be based on the length of your trip. You'll need a pack that allows you to fit all of your gear easily without having to resort to overstuffing. If you're going on a multi-day hike, purchase a pack with an upper chest strap and thick hip support straps.
Even in the world of Google Maps and GPS, there are still places you'll travel when this type of technology just won't work. Keeping a map handy in your pack can be a total lifesaver and will probably end up saving you hours of wasted time searching for trails in the backcountry.
When you hike, you're burning a ton of calories, so you need to bring snacks that can quickly replenish nutrients. Hikers recommend Clif bars, trail mix, One Square Meals, candy bars or dried fruit.
When it comes to the type of hiking gear you'll need, there really is a large distinction between lengthy overnight trekking and casual day hiking. But the following gear will be good to have on hand, even for shorter treks:
•    Lighter
•    Carabiner
•    Duct tape
•    Toilet paper
•    Bandana
•    Pocketknife
•    Head lamp
•    First aid kit
Will you use all of these items during a hike? Probably not, but they don't add much weight and you'll be glad you have them if you end up needing them.
Skin Protection for Long Treks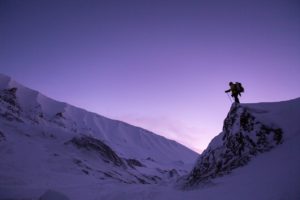 When it comes to your hiking clothing, cotton is not the way to go. This is a slow drying fabric that doesn't work at all to keep your skin dry or your body temperature regulated.
Many hikers choose lightweight trekking pants or trekking board shorts. Both are fast-drying and lightweight and they'll be very useful if you stumble upon a river or waterfall to cool off in.
Never leave home without some sunscreen and proper clothing to protect your skin against the sun. Not only can sunburns be uncomfortable, but they can also be dangerous, especially if you have a fair complexion or are generally prone to sunburns.
Zinc is a great protector for the face and lips, while wearing a long-sleeved shirt and a sunscreen with a higher SPF can prevent severe burns. You should also bring along proper neck and head protection. If you stop by a local watering hole, make sure you reapply a thick layer of sunscreen immediately after.
Hiking Foods for Day Trips
While we briefly touched on a couple of snacks to bring along during a hike, for longer trips you'll need to pack some of these hardy food choices in order to keep your energy level up for those rougher week long treks.
How much to bring will depend on the length of your trip and the number of people in your party. This is by no means a complete list, but it contains a number of super foods that the body can easily burn for fuel.
Nuts are always an excellent choice. They're great for snacking, lightweight, and they're also loaded with protein and healthy fat. Walnuts or almonds are a good choice.
For short day trips, bring along some fruit, such as oranges or apples. You can toss a few of each in your pack and you'll have a good fiber and carb source that will keep you energized until mealtime.
Almond butter and bread can be the perfect snack or quick meal. The almond butter contains healthy fat and protein and the bread will keep you carb loaded.
Bring some beef jerky. Jerky contains a ton of protein, keeps well and is easy to pack.
When you're on a long hike, fresh food that requires refridgeration is one luxury you'll have to do without. Most foods are okay for one day in your pack.
Dry foods such as soup mixes, instant rice, pasta and drink mixes are light and won't take up too much space inside your pack.
Food that's dehydrated or freeze-dried can be super convenient. While a little on the pricey side, they can deliver above average sustenance and taste for very little weight.
Bringing along canned food is only a good idea if you're going on a short trip. Canned meats or tuna can be a good toss-in item for a pot of pasta or rice. Keep in mind canned food will take up a lot of space in your pack and can also add too much weight, making your pack feel like a burden after just a couple of hours hiking.