Teton Sports Mountain Adventurer 4000 Backpack Review
Sports Mountain Adventurer 4000 by Teton Review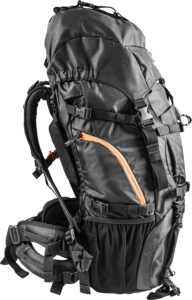 The Teton Sports Mountain Adventurer 4000 backpack comes loaded with a ton of unique, special features that you won't find anywhere else. This is a sixty-six-liter lightweight pack that's suitable for multi-day hiking adventures. This is a top loading pack that comes with a couple of buckles located on the front, and straps in the back and a classic lid, making it a floating style pack. This is one pack that will allow you to keep all of your gear highly organized during your trip, and the many access points mean you won't have to go digging through your pack to find what you need.
Mountain Adventurer Hiking Backpack Assessment and Features
Under the pack's lid, you'll find a sleeve with a couple of straps and buckles, which is just one of the many unique features you'll find in this pack. This is the perfect place for stashing a sleeping pad or tent.
Under the lid, the collar is equipped with a couple of drawstring closures. It's very big, allowing for easy top access. The presence of the floating lid and expandable collar means extra volume where and when you need it.
You'll also enjoy additional front access to the main compartment via the U-shaped zipper. This is located under the two horizontal front straps and pocket.
The pack also comes with a separate compartment for a sleeping bag. This compartment features a standard horseshoe zippered closure. The divider that separates the sleeping back compartment from the main compartment has a no-snag zipper. This zipper allows you to expand the size of the main compartment if you're not using the bottom one to store your bag, or you can choose to keep it closed and store smaller items.
This model by TETON is also hydration pack compatible, with water hose ports located on both sides at the top. Inside the main compartment, you'll find the hydration pack sleeve complete with a Velcro hanger.
All of the zippers on this backpack are equipped with pull loops and are large enough that you can easily handle them when wearing gloves.
This backpack also comes with an integrated ripstop poncho/tarp that features 2000mm water resistant coating. The tarp is definitely large enough to cover both you and your pack and features several tie-off points that you can use when you're in camp, so you can turn it into a nice waterproof shelter.



This pack comes equipped with a wide range of attachment points. On the pack's lid, you'll find two compression straps, which while not usual, can end up being very useful. They're also long enough that you can attach a wide variety of gear.
The dual compression straps are located on the bottom section of the pack, where you'll also find a couple of gear loops and buckles.
On the very bottom of the backpack is a separate pocket with a holster that has straps and buckles that you can use to carry items on the bottom of the pack, such as a small tent or sleeping pad.
When it comes to pockets, you'll have plenty of areas to stash your supplies. There's a single small zippered pocket located beneath the lid, with a large zippered pocket on top of the lid. When you receive the pack, this is where you'll find the poncho.
On the front, equipped with a vertical zipper is another pocket, which is fixed in place with a couple of buckles and straps and an extra buckle located on top. When you undo the buckle you'll be able to store more gear behind it, using the horizontal straps to keep items secure. The buckles and straps can also be used to carry trekking poles and skis.
Other storage options include a zippered pocket on the left side of the pack and below on both sides you'll find stretchy mesh pockets with dual straps for water bottles or smaller items.
There's also a zippered hip belt pocket located on the right side. On the left side of the hip belt, you'll find some gear loops.
Teton Hiking Backpack Pros and Cons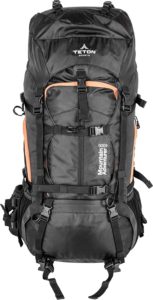 Pros: This is an internal frame pack, which means it has a couple of aluminum stays on the back. The harness is highly adjustable and slides well along the stays. The pack is perfect for a torso length that ranges from fifteen to twenty inches. But for packs this size, you also have load lifters and they can help to add a few centimeters to the length if needed.
The shoulder straps are well padded, as is the lumbar area, which will make it much easier to hike carrying a full pack for a longer period of time. The padding found on the hip belt and harness is covered in a thick, breathable mesh. The shoulder straps also come with webbing loops that you can use to secure the water hose.
We really loved the thickly padded waist belt with split dual wishbone construction.
Cons: The torso length may not be long enough for taller wearers over six feet in height. This pack weighs in at almost six pounds, which makes it a little too heavy for shorter trips. While the material used is highly breathable, the weight and size of the pack do not make it ideal for use in the summer months, unless you have a camp base where you can dump your gear for the day.



The High Sierra Long Trail 90 hiking backpack is a more affordable option that offers comparable storage and attachment features, but is designed for longer trekking adventures.
Teton Sports Mountain Adventurer 4000 Review Conclusion and Rating
This Teton Sports Mountain Adventurer 4000 Hiking Backpack is a fairly lightweight pack that can be used for weekend or weeklong hiking excursions. The pack is a good buy for the hiker who loves to keep their gear and supplies organized. It offers so many unique features that you won't find together in any other pack on the market. The numerous storage options allow you to easily access your gear quickly, while the zippered divider provides more room for longer trips. Hikers who purchased this pack gave it a perfect score of five out of five stars for storage options, pricing, and durability.
CHECK THE LOWEST PRICE HERE